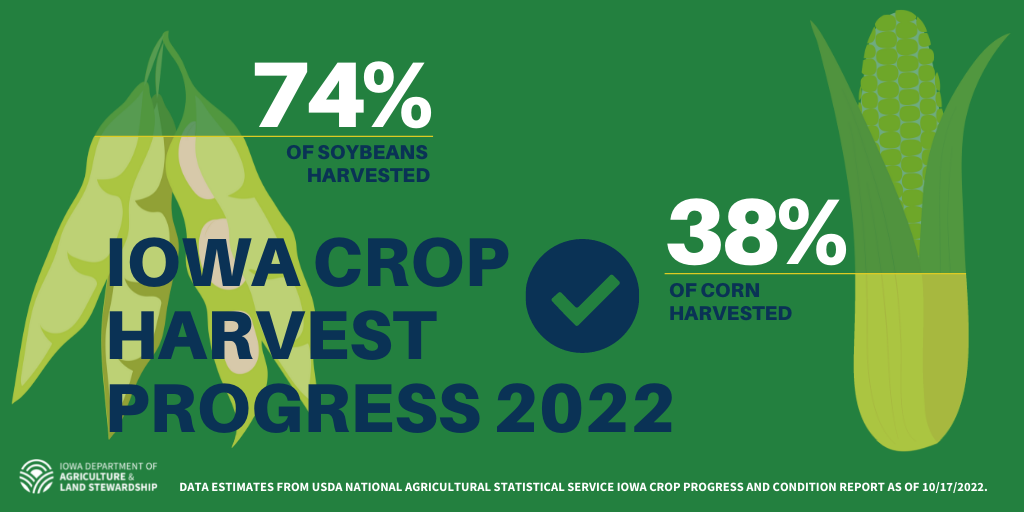 Iowa Crop Progress and Condition Report
October 10 – 16, 2022
DES MOINES, Iowa (October 17, 2022) — Iowa Secretary of Agriculture Mike Naig commented today on the Iowa Crop Progress and Condition Report released by the USDA National Agricultural Statistics Service. The report is released weekly April through November.
"The generally dry conditions statewide have allowed farmers to make steady progress with 74 percent of the soybean harvest and 38 percent of the corn harvest completed," said Secretary Naig. "For the first time since August 2013, all of the state is experiencing some form of abnormal dryness or drought but weather outlooks through the end of month are indicating potential shifts toward wetter conditions and warmer temperatures."
The weekly report is also available on the USDA's website at nass.usda.gov.
Crop Report
Harvest continued with 6.1 days suitable for fieldwork during the week ending October 16, 2022, according to the USDA, National Agricultural Statistics Service. Fieldwork included harvesting row crops, fall tillage, and applying fall fertilizer and manure.
Topsoil moisture condition rated 21 percent very short, 40 percent short, 38 percent adequate and 1 percent surplus. Subsoil moisture condition rated 23 percent very short, 41 percent short, 36 percent adequate and 0 percent surplus.
Corn in the mature stage or beyond was 96 percent, 1 day behind last year but 4 days ahead of the 5-year average. Harvest of the State's corn crop reached 38 percent complete, 2 days behind last year but 6 days ahead of the average. Moisture content of field corn being harvested for grain was 19 percent. Corn condition rose to 65 percent good to excellent. Soybeans dropping leaves or beyond were at 96 percent. Soybeans harvested reached 74 percent complete, 11 days ahead of the average.
Pasture condition rated 29 percent good to excellent. No livestock issues were reported.
Weather Summary
Provided by Justin Glisan, Ph.D., State Climatologist, Iowa Department of Agriculture and Land Stewardship
As fall colors continue to show across Iowa, cooler conditions were felt over the reporting period. Northeastern Iowa saw negative departures of up to four degrees while near-normal temperatures were found southwest; the statewide average temperature was 50.3 degrees, 2.6 degrees below normal. While rainfall was widespread, many stations reported deficits of more than 0.50 inch.
Iowans experienced pleasant conditions into Sunday (9th) afternoon with low to mid 70s and mostly sunny skies. Light and variable winds persisted overnight as temperatures cooled into the low 30s northwest to low 40s southeast under the stars. Unseasonably warm temperatures returned to Iowa on Monday (10th) as daytime highs pushed into the upper 70s and low 80s across the state's western two-thirds. Strengthening southerly winds held overnight lows in the low 50s north to upper 50s south. Spotty showers skirted several counties in southeastern Iowa after sunrise on Tuesday (11th) leaving behind minor rain totals. Wind speeds increased through the day as a strong cold front approached from the west. Clear skies in northwestern Iowa allowed temperatures to rise into the low 80s while cloud cover and rain held temperatures in the mid 60s in the southeast. The surface boundary finally pushed over western Iowa just before midnight with a few severe-warned thunderstorms along the Iowa-Nebraska border. The complex brought widespread rainfall as a secondary line fired in eastern Iowa around 3:00 am on Wednesday (12th). Rainfall totals were highest in west-central and eastern Iowa as at least 10 stations observed 0.50 inch or more with general totals around 0.20 inch; a Community Collaborative Rain, Hail and Snow (CoCoRaHS) network gauge in Cedar Rapids (Linn County) hit 0.57 inch while Persia (Harrison County) registered 1.21 inches.
Pockets of showers continued to filter in through the afternoon and evening hours as winds shifted to a northwesterly direction Colder air behind the front held afternoon highs in the 50s under partly to mostly cloudy skies. Rain totals from the backside of the disturbance reported at 7:00 am on Thursday (13th) were under 0.20 inch with Hopkinton (Delaware County) dumping out 0.19 inch. Morning lows varied from the mid 30s in northern Iowa to the low 40s farther south. Gusty northwesterly winds persisted with chilly daytime temperatures hovering in the low to mid 40s in northeastern Iowa. A fast-moving low pressure center brought very light rain showers to Iowa's southeastern half through Friday (14th) leading to damp and chilly conditions; temperatures again held in the 40s and low 50s east to west. Rainfall amounts were no more than a trace at most stations to 0.20 inch at Augusta (Lee County). Skies cleared into Saturday (15th) morning with low temperatures in the 20s and low 30s; the statewide average low was 27 degrees, 13 degrees below normal. Conditions through the afternoon rebounded with seasonal temperatures across much of western Iowa; low to mid 50s in western Iowa were 10-12 degrees below average. Clouds moved into western Iowa through early Sunday (16th) with mid 30s to low 40s registering on thermometers across the state.
Weekly rain totals ranged from no accumulation at multiple Iowa stations to 1.30 inches in Monticello (Jones County). The statewide weekly average rainfall was 0.18 inch; the normal is 0.54 inch. Little Sioux (Harrison County) and Sioux City Airport (Woodbury County) reported the week's high temperature of 84 degrees on the 11th, on average 18 degrees above normal. Spencer Municipal Airport (Clay County) reported the week's low temperature of 21 degrees on the 15th, 17 degrees below normal.
###
About the Iowa Department of Agriculture and Land Stewardship
Led by Secretary Mike Naig, the Department of Agriculture and Land Stewardship serves the rural and urban residents that call Iowa home. Through its 14 diverse bureaus, the Department ensures animal health, food safety and consumer protection. It also promotes conservation efforts to preserve our land and enhance water quality for the next generation. Learn more at iowaagriculture.gov.